How do I check my results online? How do I check my child's results? It's not working, what did I do wrong? These are the most common questions that come to and from pupils, students, and parents before and in the process of checking results online. Before you start checking the results online, you need to make sure whether the present exam results are published first. Secondly, check if you are issued a result ticket like the one found below with the details of your name and class across.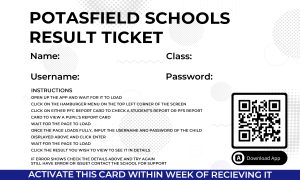 How to download MYPFS App to check my results online

We would suggest you check your results with our MYPFS App. It is avialale to both andriod and IOS device users. The MYPFS App would make checking for your result and other resources from the school a breeze and it is infact light weight and mobile-friendly too (6.7 MB and 1.9 MB respectively).

If you do not have the app, you can easily download it using the following links to the MYPFS Andriod Version or MYPFS IOS Version found on either the Google Playstore or Apple App store before proceeding further.
How to check my results online via the App

Tap on the MYPFS App logo and be patient enough to wait for it to load. Once the first page loads, tap once on the hamburger menu found on the top right of the screen of the app to slide out the side navigation menu.

Secondly, scroll down the navigation menu to the preferred result portal and tap on either PFS Result view or PFC Result view to load the result portal. The result portal should look like the picture below.
Filling out the Form Details …
Open the result ticket to reveal the username and password with you (or your child) and type correctly into the form provided.
Step 1: Enter Your alphanumeric or numeric "user number" e.g. "J-0123" or "0123" as seen on the result ticket.
Step 2: Enter Your 6-digit "password" e.g. "123456" as seen on the result ticket.
Step 3: Tap on the "Sign in" button and wait for the information page to load.
Step 4: If "Error occurs" go to the next paragraph.
MYPFS result portal allows you to view, download and print your school results, and provides tools to enjoy online education. For Potasfield, By Potasfield…
What to do when my results online comes up with errors via the App

Close the App, check if the mobile device has a stable internet connectivity and
proceed with the above steps of "How to check my results online via the App" again. If after this issue, you can send the details found on the ticket to a teaching staff or class instructor to aid you further with the MYPFS Staff App. If these method fails, proceed further to the ICT Team via email or/and whatsapp on … and … respectively either for PFS or PFC Results assistance.
F.A.Q
Frequently Asked Questions
I'm a parent and have questions about my child's results. Who should I talk to?
Parents and guardians should discuss their child or ward's results with the class instructor of their child or ward, Head of Departments, Head of Academics (Assistant Head Teacher Acad or Vice-Principal), or Head Teacher/Principal who is part of the academic committee. Please do not contact the ICT Team directly for this issue except in the instance of technical issues with the MYPFS App or School Portal.
How soon can I expect to receive my results online?
Depending on the schools' management decesion of the results, it could take a day or two days to compute the results. You should contact your class instructor or teacher or contact the school admin office if you have any questions about the availability of results, or you can continue to check your online portal account, as results are posted based on a fixed schedule as indicated.
Is it true that the password can expire?
Yes, it is. Passwords can expire because it is not yet tied to a username. Once a ticket is given, you need to lock it with your username immediately within the time stipulated on the result ticket.
How many times can I check my online results?
You may check your result up to a maximum number of times within a month with the use of your username and password. In order to check further after exhausting the allowed times, you will need to purchase another password which will entitle you to another month of result checks.
Yes, I have a Technical Issue who can I Talk To?
In placing the right username and password and it shows up as incorrect after several trials, it is advised to get in touch with the ICT Team directly. Please state clearly the issue at hand so the right answer and support would be given.
If this issue is forwarded via Whatsapp, State details about yourself (your child/ward's name and class inclusive), the issue you are facing, and a snapped picture of the slip or token (if required) to aid the ICT Team support you accordingly.
The ICT Team Support Team can be contact via